RetailPos Advantage is the best-value point-of-sale with a feature-packed quality point of sale system,

with features (that other providers call extras)
that are designed and developed right here in Adelaide.
The easy-to-use smart touch screen point of sales screen ensures your staff can easily use and navigate their way around.
RetailPos Advantage boasts high performance and stability with the assurance of automatic backup printing
and off-line mode to ensure your business keeps trading.
Not sure what you need ? Give us a call 08 8363 2988
Some of the touch screen point of sale software POS System, Retail Features:
Easily put goods on lay-by. Modify a lay-by without having to pay it all off. Easily recall a lay-by by name, number, address, lay-by Id or simply scan the barcode on the customers lay-by receipt.
Keep track of customer purchase history.
product exchange feature
Customer and store receipts with full payment history.
Over 16 Reports just for Lay-by's / Accounts including outstanding lay-by reports.
E-mail and SMS customers when lay-by payments are due.
Put products on hold for customers.
Create and recall quotes for customers.
Management control, adjust any lay-by's deposit amount and day's e.g. 90 days -100 days-20 days, payment reversals,
view all outstanding lay-bys.
Lay-bys can be seen and payments made from any store if you have multiple stores.
E-mail and SMS customers when goods have arrived back in stock or are ready for collection after modification or repair etc.
Scan receipt and the point of sale software will find the sale and do a full or part refund, a refund can also become in store credit easily.
Issue in-store Vouchers, Discounts, and Promotional Vouchers.
Automatically runs your specials.
Runs special offers and deals only available to loyalty customers.
VIP shoppers.
In-house barcode / shelf-talker label printing .
Barcode scanning (in-house or external).
On-screen product images and details (qty, price and description).
---
Total Stock Control from the retail pos advantage software
See available stock at all stores and request an internal transfer or hold of product.
Receive stock direct at each store or ship out from the warehouse.
See available stock and other necessary information from the sale screen.
See estimated days left of stock, full stock sales history.
---
POS System Reports
Retail Pos Advantage POS Systen, point of sale system gives you total control, with over 200 reports! 46 sales related reports,
33 Stock related reports, 15 daily financial related reports and the ability to export sales data into accounting programs such as Xero and Intuit QuickBooks, Myob Essentials.
---
MultiStore Head office
Flexible options of running a live point of sale centralised database or each store as stand-alone with a centralised
Customer Loyalty database. Either way, the point of sale system is a smart pos system and will keep working even if
head office is unreachable. With RetailPos Advantage POS Sytem, touch screen point of sale software you gain greater business knowledge and
control of menu layouts, products, pricing, promotions, barcode scanning accounts, laybys, stock, employees, reporting
and marketing to your customers.
---
Customer Loyalty

Retail Pos Advantage point of sale software's Customer Loyalty allows you to reward and market to your customers.
Customers can easily join up at any point of sale terminal and instantly start earning Reward Points, Members-only specials, discounts and access to member's prices. Each product sold can be individually assigned a Reward Point value and expiry date. As points become close to expiring our system can notify your customers about their
soon-to-be-expired points via e-mail or SMS. They can also be notified as they earn points.
---
Touchscreen point of sale POS System with Integrated Web Store (nop commerce)
Retail Pos Advantage touch screen point of sale software has its own built-in web store where you can configure products that are sold online. Potential customers can join your Loyalty Programme online. Any purchases made will be shown on your touch screen point of sale system POS as an on-line sale and any production dockets will automatically be printed.
---
Total point of sale POS System Control
You can quickly and easily change the price or add new products to the touch screen point of sale system from any pos terminal, even while serving a customer. And the changes will automatically flow through to all other POS terminals within seconds. But only if you have the correct staff rights to do so!
---
Total Staff Control
the retail pos advantage software tracks Every action in the sale screen is totally controllable by employee types or the pos system settings with over 300 control settings available to ensure your system works and is used the way you like it.
---
Customer Marketing SMS & E-mail
from within the retailpos advantage point of sale software offers a built in way to market and keep in touch with your customers, such as sending an e-mail or SMS to all customers, only those who came in on a specific date, have not made a purchase for a given number of days, from specific suburbs, or having a birthday soon and much more.
---
Owner SMS/E-mail Alerts!
from the retailpos advantage point of sale software you can easily send yourself alerts if any staff or specific staff do no-sales, cancelled sales, refunds or payouts over a certain dollar amount.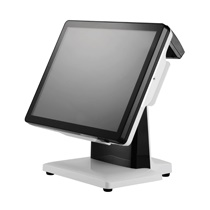 Please call (08) 8363 2988 for pricing.

Australia-Wide Dealers Wanted!
Become a dealer of our highly successful POS System, point of sale software! If you are interested in our product and want to know more.
Please call (08) 8363 2988 and ask for Scott Perkin.